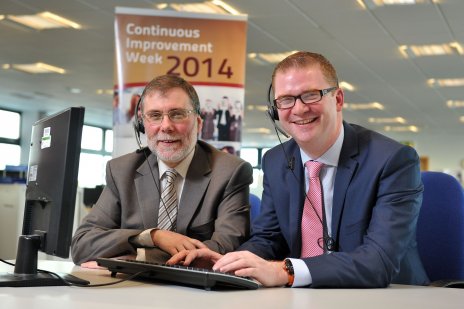 Ministers Support Better Public Services as part of Continuous Improvement Week
DEPARTMENT OF FINANCE AND PERSONNEL

10 February 2014



'Continuous Improvement Week,' from 10-14 February 2014, was established by the Institute for Continuous Improvement in the Public Sector (ICiPS) to showcase improvements in public sector service delivery.

Minister Hamilton met with Minister McCausland to discuss the success of the Department of Social Development's Customer First business transformation initiative. This Social Security Agency initiative has delivered significant improvements in the delivery of services through centralised processing of benefit claims, improved telephone capacity and better response times.

A Customer Satisfaction Survey for Customer First has shown 90% of customers found the overall service provided was either good or very good.

Simon Hamilton said: "We need a public service which does not shy away from customer feedback; it is an opportunity to recognise our strengths, identify our weaknesses and improve our services. Customer First recognises the importance of feedback and how it can be used as a valuable marker for service improvement.

"We want the Northern Ireland public sector to become an exemplar organisation from which other countries benchmark their service delivery. To enable us to achieve this we need to encourage better communication between Departments so we can build on the lessons learned from our collective achievements. Continuous Improvement Week provides an important opportunity to showcase good practice, recognise creativity and celebrate excellence in public service."

Speaking about the initiative Minister McCausland said: "My Department highly values customer service and this has been highlighted by the 90% good or very good rating given by our claimants for Customer First.

"Customer First was introduced to ensure that all our claimants' needs are met and our claimants now have genuine choice in relation to service access which provides them with a better overall service.

"Claimants now receive more efficient and effective services through faster times for payments of claims, responsive telephony services to meet claimants' needs, and modern front-line offices designed to provide high quality services. However, we have also ensured that staff are still available at all our public facing offices so that claimants who prefer to have their enquiry dealt with face to face can continue to do so.

"While the introduction of Customer First has been a great success we will not rest on our laurels and I am committed to continuing to monitor and improve our service."

Notes to editors:

Media enquiries should be addressed to the Department of Finance and Personnel Communications Office on Tel: 028 9081 6724 or 028 9081 6725. Out of office hours please contact the Duty Press Officer via pager number 076 9971 5440 and your call will be returned.
Finance Minister Simon Hamilton MLA and Social Development Minister Nelson McCausland MLA showed their support for 'Continuous Improvement Week' by championing better public services in the Social Security Agency.