2020 Exhibitors
We expect 180 - 200 delegates to attend our conference. They are primarily public sector employees but we also get some from the voluntary and private sectors.
Exhibition space will be located in the main hall where the group sessions will be held, and refreshments served. We have booked some meeting rooms to enable guests to book a one to one session with exhibitors; giving them the opportunity to gain expert advice.
Exhibition space starts from £350.00, with additional sponsor opportunities available.
If you are interested in exhibiting please contact info@icips.org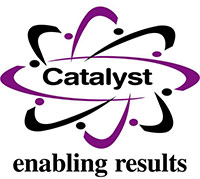 Catalyst can be your business transformation partner.
We help organisations and people to work better today and be ready for tomorrow. We do this by aligning people, processes and technology to enable sustainable results.
Our consulting solutions and training services are based on over 20 years' experience of Lean, Lean Six Sigma, Strategy Deployment, Agile, Change Management and Business Transformation.
We always seek to work in partnership with our customers with an overriding aim of transferring skills and expertise. Our approach results in you saving valuable time and money, improving service and enhancing both customer and employee satisfaction.
We count many global leading organisations and household names amongst our valued clients. Much of our ongoing business comes from recommendations based on their experience of the customer value we deliver.
Watch the 60 second video about Catalyst Consulting.