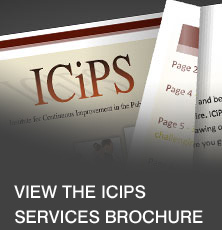 ICiPS Support Services.
As individuals and organisations work to embed continuous improvement, ICiPS is available to help them on their journey.
We offer a range of tailored support services to support everyone from leaders to the front line. We help you shape strategies and culture change programs; benchmark the level of CI maturity and develop the skills needed to ensure success with continuous improvement.
ICiPS has supported:
Department for Education
DCLG
College of Policing
Home Office
FERA
IPO
VOA
OFGEM
West Mercia Police
For further information please contact us.